A great smile is all about symmetry and natural balance. Cosmetic dentistry, as the name suggests, involves one or more cosmetic dental or facial rejuvenation procedures to improve the aesthetics of your smile in the way that you want. This treatment plan at Kingston Cosmetic dentist may consist of many cosmetic and functionally restorative procedures, potentially including oral surgery, teeth whitening, veneers, crowns, orthodontics (dental braces), dental implant, implant-supported dentures and gummy smile reduction.
Your oral health must be evaluated prior to treatment planning. If your evaluation reveals that you have oral conditions such as a misaligned bite (malocclusion) or gum disease, you will need to undergo treatment prior to your Smile Makeover.
For a dentist to be able to design a natural-looking smile it takes years of experience and advance training. A cosmetic dentist must be able to marry science with artistry to create a smile that looks just like the natural smile. Dr. Soltani of Surrey specialist cosmetic dentist has pursued advanced training in cosmetic dentistry since her graduation in Sweden and she is backed up with over 15 years of experience in the field. She offers her patients a number of different types of cosmetic dental treatments depending on individual diagnosis or what is desired by patients.
Dental white bonding material, also known as tooth bonding, is considered a direct technique toward improving your smile. Tooth bonding is a restorative procedure that is used for the teeth that are slightly cracked, chipped, discoloured or misaligned.
Dr. Soltani, our cosmetic dentist, will coat your teeth with a thin layer of acrylic resin and sculpt it into the desired shape. The acrylic is matched to the colour of your natural teeth. The results of tooth bonding are amazingly natural. Tooth Bonding can often be completed in a single visit with Dr. Soltani and can significantly change the appearance of your smile.
The result is similar to porcelain veneers but less expensive. However, plastic resin is not as strong as tooth enamel and is more likely to stain, chip or break than natural teeth. Veneers are a more long lasting solution for chips and gaps.
Full Mouth Reconstruction
Full Mouth Reconstruction may be required to create the correct relationship when you have many broken, worn and/or multiple missing teeth.
This will often require every tooth to be restored with a combination of veneers, crowns, inlays, onlays, dental implants and dental bridgework.
Our dentists at Surbiton Smile Centre have the experience and expertise to bring together the various advanced dental disciplines required to create full mouth reconstructions that not only look great but also function correctly, ensuring your smile is healthy and will last for many years to come.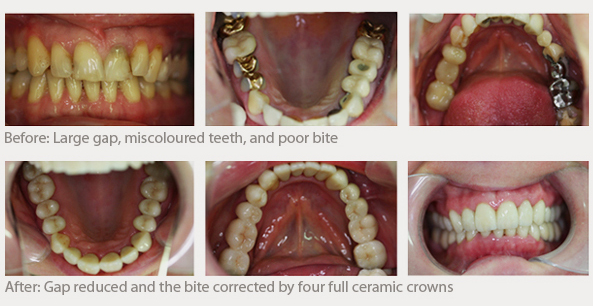 Porcelain veneers make it possible for everyone to have a beautiful smile, not just celebrities. Porcelain veneers are wafer-thin laminates or shells of tooth-coloured ceramic material that bond directly to the front surfaces of the teeth.
They are made of an extremely durable, translucent material with texture similar to tooth enamel. When bonded to the teeth, the ultra-thin veneers are virtually undetectable. Although porcelain veneers are thin, they are extremely durable and stain resistant.
If you have badly discoloured teeth that don't respond to tooth-whitening methods, veneers can brighten your teeth. Veneers can also correct a damaged and misshapen tooth.
Porcelain veneers are very effective at covering cracks and chips in the enamel.Gaps between teeth can easily be closed using dental veneers, giving you a more uniform-looking smile.
Healthy teeth are at the core of a fantastic smile, but unusually discoloured areas of enamel can prevent a beautiful smile from truly shining through.
Although there are numerous causes, white blotches on your teeth can make you self-conscious when opening your mouth. It's worth learning how to get rid of white spots on teeth and to choose a remedy that's best for you.
There are many reasons for the appearance of white spots on your teeth.
When there's a disruption to the tooth-development process, white spot can set in on the surface, but not a shade of white that blends in with the rest of your teeth. Bacterial acids can cause white spots as they begin to dissolve tooth enamel and lead to decay.
Possible Reasons for White Spots on Teeth
Fluorosis
Fluorosis happens when large amounts of fluoride are ingested when teeth are still forming. This usually has a combination of sources: excessive fluoridated water, certain supplements and swallowing fluoride toothpaste, for example. Although fluoride helps make teeth more resistant to decay, too much is just as hazardous, causing enamel discoloration that can appear chalky white, yellow or even brown.
Enamel Hypoplasia
Enamel hypoplasia results from nutritional deficiencies, high fever and medicinal side effects, as welas premature births and prenatal smoking. The enamel looks a lot like fluorosis, with spots varying from milky white to brownish or yellow. Enamel hypoplasia, however, may still have a more linear appearance.
Demineralization
The demineralization of tooth enamel takes place when bacterial plaque is allowed to accumulate on the teeth, usually due to inadequate brushing; it is frequently a problem for children and adults who wear braces. White areas of decalcification are permanent, and they do lead to decay if not kept clean.
Treatments for White Spots
Icon treatment
Icon smooth surface is used to treat white spots in vestibular areas. The principle is: Air and water entrapments in the tooth have a lower refractive index than intact tooth structure. This leads to aesthetic discolorations. Icon balances out this difference and the appearance blends in with the healthy enamel.
Microabrasion
This procedure involves gently removing a thin layer of surface enamel, thereby improving the appearance of your teeth. The microabrasion is often combined with tooth-whitening treatments for a truly high-quality aesthetic.
Bleaching
Bleach-based tooth whitening can help balance the color of your tooth enamel. For the safest results, recommends either an in-office whitening procedure
Porcelain veneers
This is an excellent option when you have significant patches of discoloration that can't be eliminated with bleaching alone. Custom fabricated with thin layers of ceramic material, veneers are bonded to the front of your teeth. Minimal tooth structure is removed to fit a veneer (less than a millimeter), the end result is natural-looking teeth that resist future stains.
Preventing White Spots
If you're expecting a baby, talk with your dentist or obstetrician about fluoride intake and any medications that could interfere with your child's developing teeth. Are you a smoker? Now's a good time to start the process of quitting. Children under the age of six can incur these spots too, and should therefore use only pea-sized amounts of fluoride toothpaste (make sure they don't swallow). If your tap water is fluoridated, and most are, check these levels and discuss the need for fluoride supplements with your dentist. Keep in mind bottled water, formulas, drinks and many foods may contain fluoride as well.
If you or your child is wearing braces, help them brush and floss around these brackets and wires regularly to reduce the risk of white spots ruining the look of their straight teeth when they come off. For extra protection, and to remineralise these white spots, your dentist may recommend a remineralising Icon treatment for white spot
Don't let acute discoloration keep you from smiling. Like most oral issues, figuring out how to get rid of white spots on teeth may be easier than you thought.
Home only teeth whitening system
Home Teeth Whitening involves custom-made trays that fabricated at our Surbiton dentist to closely fit your teeth. You are then provided with a specially formulated gel to place in the trays.
This process is aimed at achieving gradual and long-lasting whitening of your teeth that can be topped up as and when needed.
There are various home whitening systems that we use, including zoom.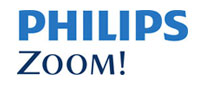 Enlighten teeth whitening (home & in-surgery teeth whitening
The Enlighten teeth whitening provides the most predictable results when it comes to achieving the result you expect from the whitening. It is the only system in the world to guarantee that the teeth will get to a "VITA shade B1" which is the whitest shade on a regular dentist shade guide. The breakthrough is that the guarantee applies to every single patient regardless of starting colour, age, lifestyle or dietary habits. The procedure is simple:
An impression is taken to allow the technician to custom-make the deep-bleaching trays.
Then every night for 14 nights the trays are worn with a gentle whitening gel. This procedure called home whitening.
You will be asked to attend the surgery for a 1-hour session of deep bleaching.The treatment start by protecting the entire mouth and gum with special material ; exposing on the teeth to the whiting material.
Enlighten teeth whitening gel applied to the teeth surface.
An special light is used to activate the Enlighten teeth whitening process.
The procedure takes about 45 minutes.
To find out how you can benefit from this whitening system contact our helpful team at Surbiton Smile Centre for more information or make an appointment to see Dr Soltani.
Cerec Crowns / Inlay / Onlay
A CEREC machine is a piece of dental equipment, that you will see standing in the corner of our surgery in the Surbiton Smile Centre. It allows us to offer a service that only takes a couple of hours such that our patients can have a new crown modelled and fitted, all on the same day.
The CEREC machine uses the latest CAD (Computer Aided Design) and CAM (Computer Aided Manufacturing) technology to create a CEREC crown for you in just one visit. This state-of-the-art digital mapping technology charts the inside of your mouth and then takes a computer image of your tooth, which gives very detailed and accurate measurements. Your new crown is milled out of a solid ceramic block in our surgery and bonded to your tooth after final preparation from our Dentist. It is really that simple! So, your tooth is encased by the new crown creating a permanent protective covering.
What is the typical process to get a Dental Crown?
Before using CEREC technology, a patient visiting us for a crown was faced with a time consuming and cumbersome process:
After an oral examination, that will include dental X-rays and other dental imaging we determine whether a crown or inlay is needed.
During the first appointment, the tooth is numbed and shaped so that the crown can fit onto the preparation.
Then a mould or an impression of that preparation is made.
Once this is done, the impression or the mould is sent to an outside lab to make the crown.
In the meantime, the patient is given a temporary crown, which is worn for one to two weeks until the laboratory completes the fabrication of the original crown. Unfortunately, the temporary crown is often weak and comes off easily, which can add embarrassment to a patient's frustration.
During the second appointment, the actual crown is finally placed.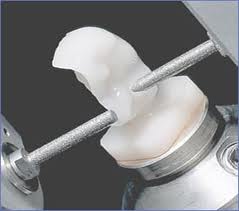 What is the typical process to get a CEREC Crown?
After your oral examination and necessary digital X-rays, our Dentist will determine if a crown is necessary.
If a crown is needed our Dentist will reshape your tooth, to allow the fitting of the crown.
An intraoral camera is then used to take a digital image (or impression) of your tooth.
Based on this image, the CEREC software creates a virtual model of your tooth. Our Dentist then uses this prototype to construct the tooth restoration on the screen and then passes the finished construction wirelessly to an in-surgery milling machine (The CEREC machine).
A high-grade ceramic, plaque-resistant material is then milled, or manufactured, to complete your new crown by the CEREC device. If you like you can even watch this in action!
Afterwards our Dentist will add some finishing touches to the restoration, and then place the crown on your tooth. Usually very little bite adjustment is needed. Sometimes none at all compared to crowns made in an off-site laboratory.
Your CEREC Crown (Inlay or onlay)will be perfectly sized, shaped, and shaded to complement your existing teeth and individual smile for optimal form and function.
This 'same day crown'service offers an affordable solution for anyone wanting to minimize their time at the dental surgery. Some patients ask if the CEREC Crown is as durable as a conventional crown, made in the dental laboratory. There is no difference in the durability of these crowns.
Bear in mind too that this type of restoration can be matched to the colour of each your natural teeth, so the CEREC crown will look beautiful and natural. In fact, no one will notice that you have a crown.
With twice a day brushing and daily flossing, teamed up with six monthly dental examinations and Hygienist cleanings, these restorations will last for years and give you a confident, aesthetically pleasing smile.
Gum Contouring | Gum Shaping
Where gum tissue overgrows to cover more of the tooth than is desirable, a cosmetic dental technique called gum contouring can be used. Sometimes the gum tissue overgrows in certain sections of the mouth causing the smile to look lopsided or uneven – in these cases, selective gum contouring is used to "even-up" the smile.
Aesthetic ridge augmentation
Aesthetic Ridge Augmentation is a technique used to correct the ridge defect that is caused by the tooth loss and gum shrinkage.
This patient was unhappy with the contour of his gums around the missing tooth. The blue coloration is a tattoo created by minute metal particles within his gums (from a failed root canal).

The bluish gum tissue was removed and the ridge was augmented with a graft, giving a more pleasant and natural contour.